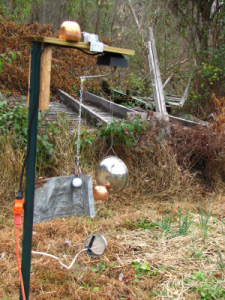 Last November, I killed my first deer. It was one of the high points of the year, despite the fact that during the same twelve month period I got married and learned to take vacations. Now that hunting season has come around again, I'm ashamed to say that the delicious taste of venison is not enough to tempt me to take up arms. Why not? Because, for the first autumn ever, our garden is 100% deer free.

A month ago, I saw the signs of an incursion on my daily patrol. One of the three beets I managed to germinate during the late summer heat had been kicked out of the soil, its tops eaten off, and I followed the deer tracks to a bed of swiss chard that had been similarly defoliated. The deer damage occurred right where I knew it would --- where one of last year's old-version deer deterrents had failed and was replaced by a deterrent with more of a bell-like chime than a metallic bang. "Please make that one louder," I begged Mark, and he added in a metal bowl for the golf ball to strike. I fired a few shots into the woods above where I heard a rustling, and the garden has been safe ever since.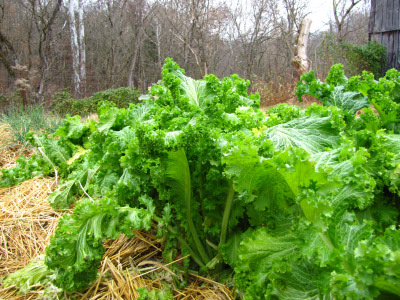 As a result, we're eating nearly completely from the garden still, despite it being two weeks 'til Thanksgiving. The deer-free mustard greens are huge and sweet and there are so many that I barely seem to make a dent with my daily picking. The Black-seeded Simpson and Bibb Lettuce make for daily salads, and our broccoli is sending out enough side shoots (after we picked the 10 inch wide main heads) that we eat broccoli once a week as well. I took a look at the high prices of broccoli in the grocery store the other day and figure that our deer deterrents have probably saved us a couple of hundred dollars in product costs for the fall garden alone. Victory sure tastes sweet!